Tucked into a sidestreet just off an improvised bus terminal along one of the busiest roads in Tbilisi is Rezo Gabriadze's pet project: a three story clock tower that is perpetually falling down. It's a very young structure in a very old place, made by a world famous puppeteer who cobbled it together himself in the street over three years, brick by brick.
The tower is kind of stylistic flypaper, with a range of influences stuck to its twisting torso: a few Ionic columns here, a handful of grapes and pomegranate trees there, and a daily carousel of life – boy meets girl, they marry, a baby, a funeral – spinning every day at the chime of noon.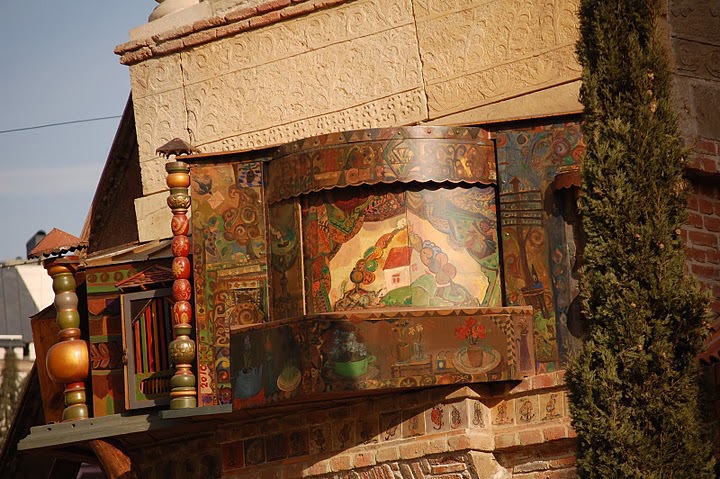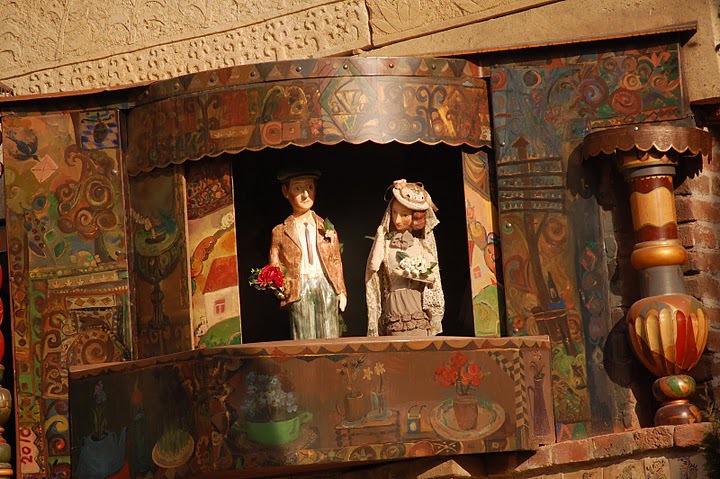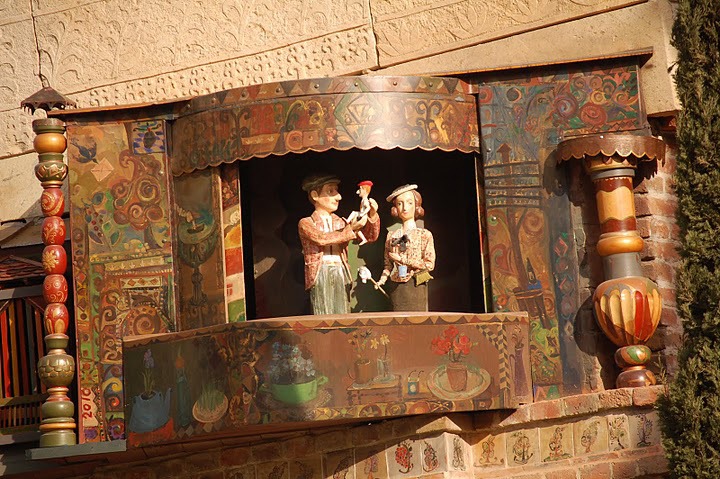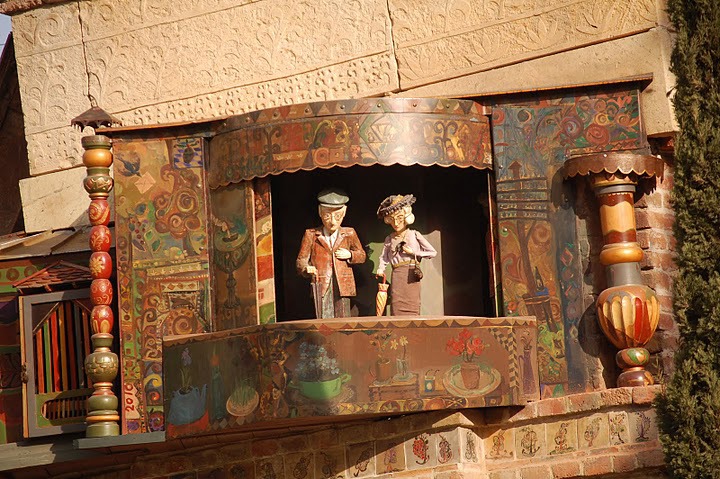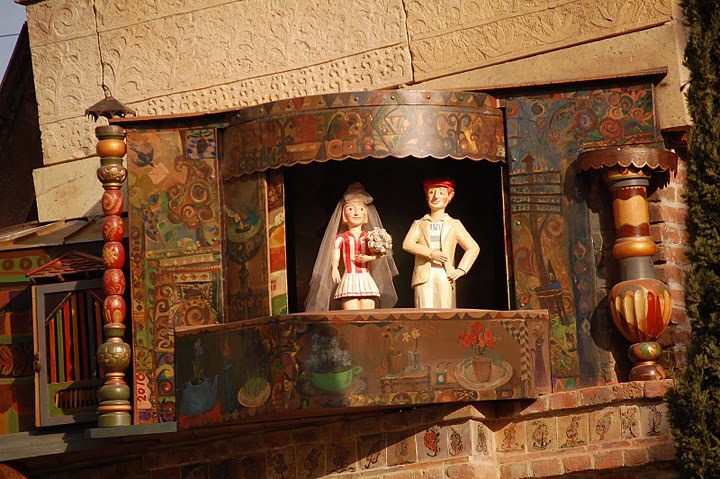 The clock closeups are courtesy of Kakha Khimshiashvili.
The café theatre beside the tower shares the tower's cartoon shanty town ethos. Rezo built it by hand over thirty years ago by literally taking pieces of Tbilisi's "old city" out of the trash following a major earthquake. "I thought it was a real shame to call that stuff rubbish," he told The Independent in 2002, "Everything has its use.'"
The whole thing looks like it's going to tumble over as do many of the other buildings in the neighborhood. But the tower is held up by a naked steel girder – a great joke, once you turn the corner and see a bulging concrete wall buttressed by a large tree trunk. The tower doesn't try to drag Georgia into a chrome-colored future like the city's more brochure-friendly projects whose price tag soars into the unknown hundreds of millions. Rezo's tower is playful, clumsy, maybe even naive. Except that everyone seems to love it. It's actually a moving structure, physically and emotionally, and it reminds you that Georgians are proud of more than just their wine and their warriors.
Cities don't age like people. Tbilisi has been inhabited by Georgians since something like the 5th century, but is now younger than ever. After years without electricity and gun fire in the streets, this ancient capital launched the first of the "color revolutions" that overthrew dictators in one post-soviet republic after another.
The building boom in the capital has produced bridges, monuments and an "old city" facelift which were personally approved, if not simply chosen, by the president. Unlike roads or subway systems, architecture is as much about taste as utility.
The cracked streets around the tower are filled with the squeals of children racing and the clicking of high heel shoes. Beautiful, dilapidated buildings line the roads of the "old city," the capital's first neighborhood. Between the houses is another world of yawning, enigmatic courtyards, the curious result of soviet urban planning and the Georgian desire to turn grapevines into shade. Whether it's football or gossip, young and old each close ranks in their own ways, ready to enter the free world, but still facing one another.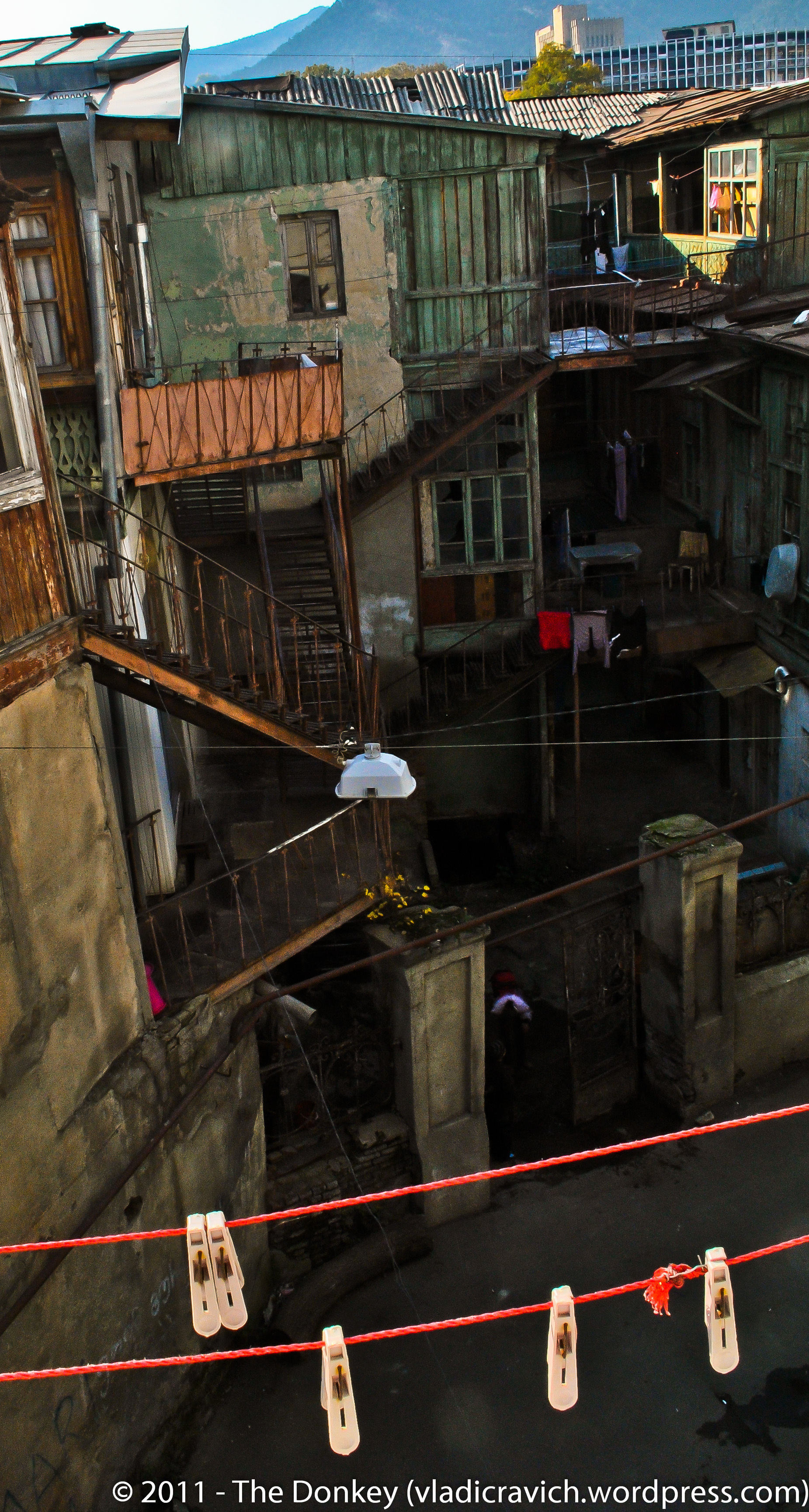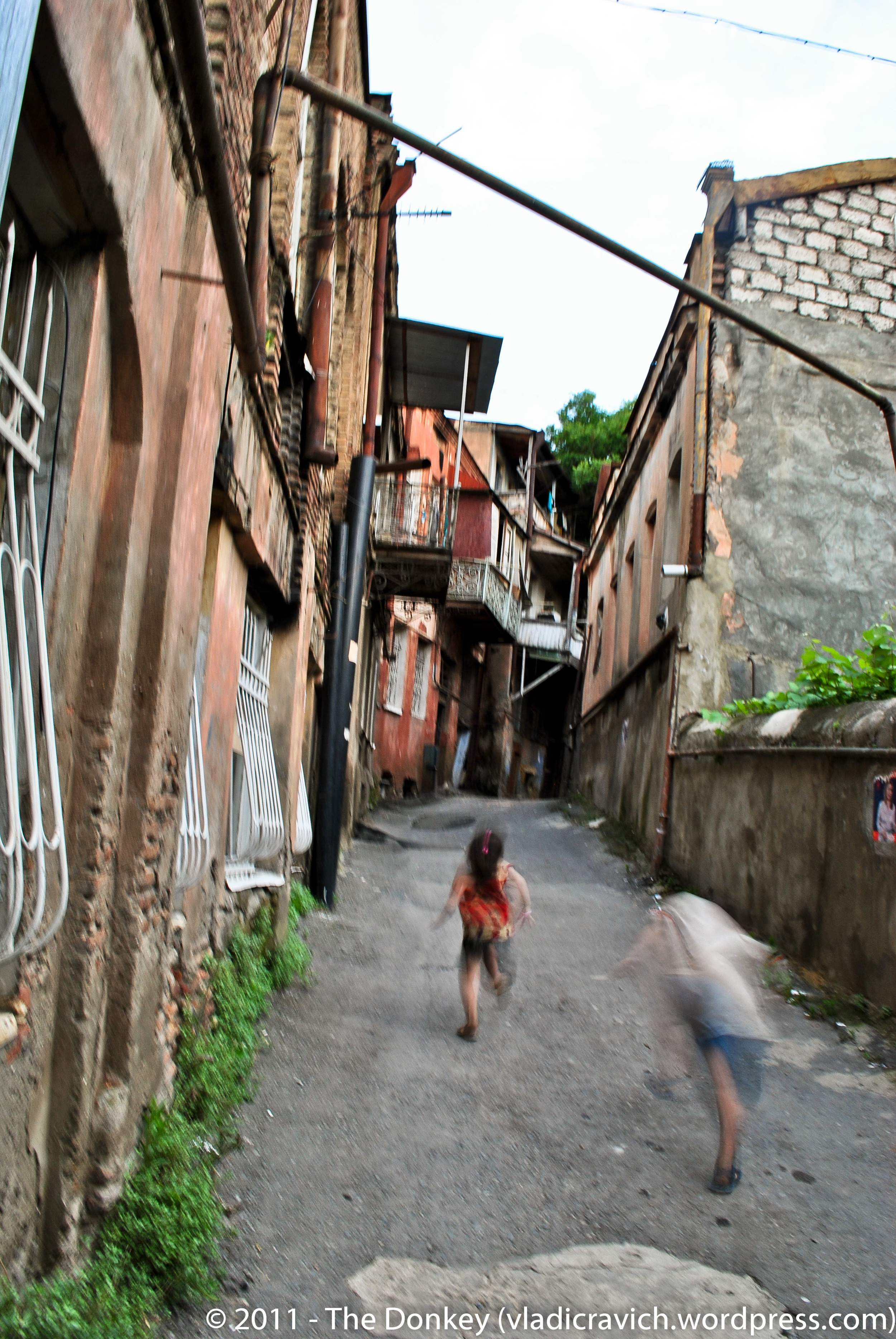 It's just one of the reasons it's becoming more exciting to go out in Tbilisi. It's a hip city, a place where the young people all expect much more than their parents. Many young Georgians roll their eyes when I say this – they'd rather be in New York or Berlin they say. One guy I met at the Dry Bridge market told me he was so excited to leave and see the world – "it's just the people here," he said, "I'm tired of them," which reminded me more of my blasé Brooklyn friends than the young people I met in Baku or Mexico.
This desire to travel and see beyond the borders is exactly what I find so exciting about Georgians my own age. They are eager to enter the world; whether it's as businessmen or artists, there is an appetite there. There are plenty of people who are rooted to their courtyards and skeptical of the outside, but the momentum doesn't seem to be on their side. Especially among the young:
I've never stayed in Tbilisi for more than a few months. Instead I've made brief excursions when working in Azerbaijan. With each visit Tbilisi felt like a younger city, full of renewed culture and energy. It still looks old though, and for a guy with a camera, that's awesome: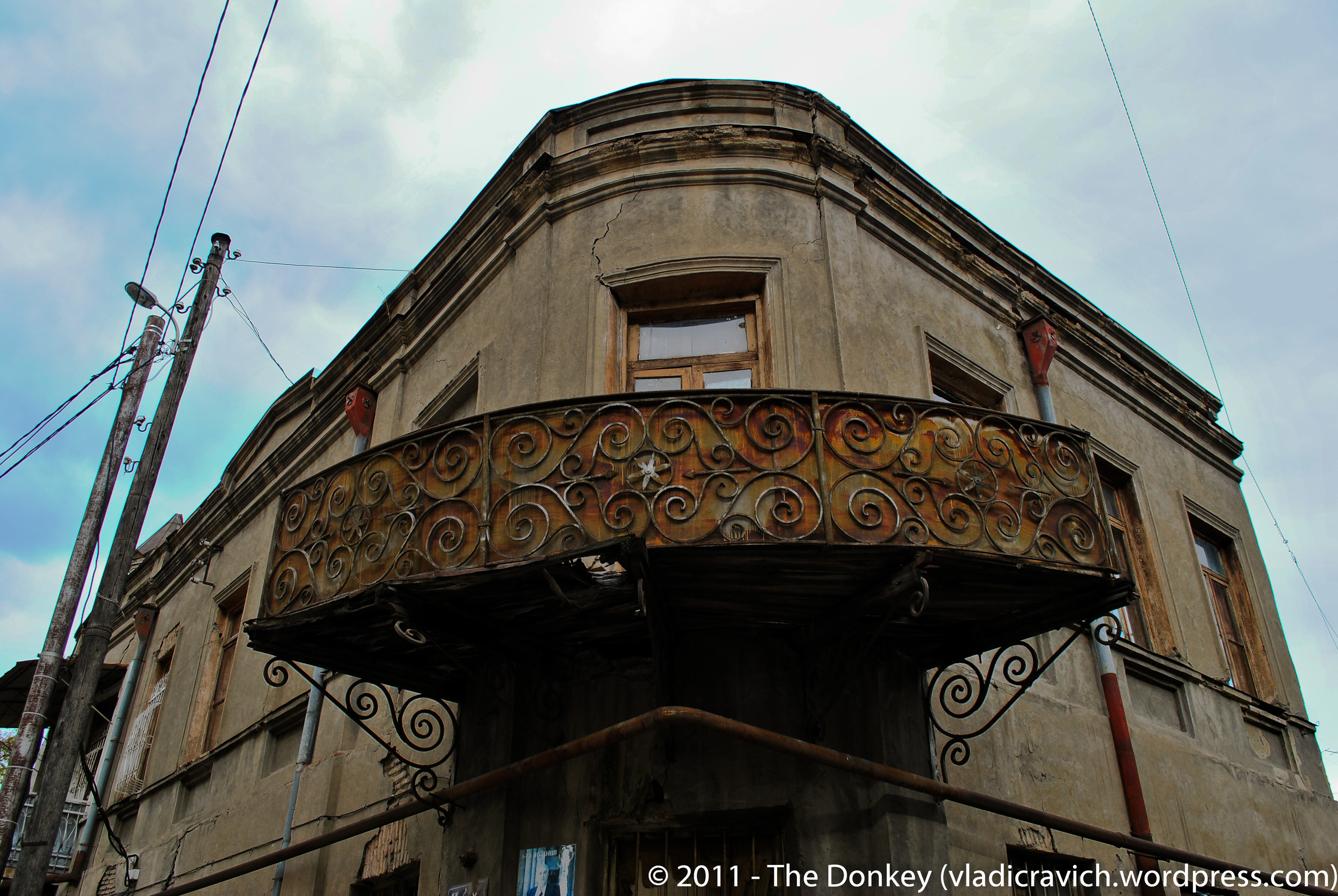 It's not just the appearance of the city, which is noticeably greener and more lit up each year, in contrast to the winters without electricity of just a few years ago. Then there's the feeling I get from walking the streets: curly-haired guys lugging around guitars and violins, art galleries beyond the wealthy nucleus and movies being shot on the streets.
Then there are the twenty-somethings who are busy opening restaurants, bars, cafes, hostels, and who knows what else. I don't know if the change is statistically relevant or reflected in the appropriate economic column, but the mood of the city has shifted.
My first visit, in 2005, was dominated by mass political consciousness. Of course not everyone cared about politics - quite the contrary - but it was all around you. They knew something big had changed in their country and they liked it. Today that new Georgia has arrived and the youth's focus seems to have returned to their own social circles. No one I met on my last week long sojourn was particularly interested in politics. Instead, they cared about their own day-to-day life.
Unlike previous generations, today's youth have a real opportunity to experiment with how to make a living. For example, I stayed at the Tbilisi Hostel, which was started by two guys in their early twenties who wanted to save up for their own travels. They were in Nepal last I heard and their friends have been managing the place while they're away. I'm not sure how Georgia's much-touted tourism pitch is going, but as a young, American traveler, these guys seemed to be much more on my radar than any Minister of Tourism campaign.
And yes, all those new media verbs play a role here: I Couchsurfed there, then recommended them to others via Facebook, etc. But I kept coming back because of the atmosphere there – they understood backpackers, encouraged a sense of community and rise to the occasion of Georgian drinking toasts whenever the clientele proves restless. Like the other businesses I'll discuss below, they obviously catered to foreigners that pass through Georgia. But even if their local friend don't stay at the hostel, they certainly notice when their peers can support themselves with a functional business. It's not a coincidence that the owners of the businesses discussed here all know one another.
I remember visiting a yet-to-open rock & roll bar in 2005, where the stage was still being hammered into place – the first of its kind in Tbilisi. Here it is today:
Maybe the streets are safer, maybe more people play music. I won't pretend to know enough about the city to defend this idea as more than it is. But with that disclaimer, here's a theory that stuck out to me: the bad Tbilisi of the 1990s was an incubator and the eggs are starting to hatch.
"I learned to play when I was much younger. I stayed home and practiced all the time," said Ramaz Khatiashvili, bass player for the Georgian jazz band 33A, named after the apartment they rehearsed in for years. "It was too dangerous to spend much time outside, so we all stayed inside." Add to this an economy in chaos, electricity that comes in for a few hours a day and a culture with a long and rich artistic tradition and you have an incubator for a vibrant artistic generation.
"I guess it's true, we couldn't watch TV, it wasn't safe to meet up outside, there was no internet, no electricity, nothing," said Ramaz, "Maybe it did help me focus on my instrument." Makes me wonder what Baghdad's young people will look like in twenty years…
Ramaz told me this over beers and cha-cha at Salve, the home (literally) of Giorgi Samkharadze. Salve looks and sounds like a bar, but unlike the pubs and restaurants on Perovskaya Street that cater to tourists and wealthy Georgians who can afford to pay western prices, Salve is a hole in the wall with a Nintendo, a drum set, and an eclectic soundtrack. It's also the most likely place to encounter drunk artists, musicians, and foreigners like me I suppose.
"It's my home," said Giorgi, the twenty three year old (or something close to that – my notes got too mangled that night) founder. He was welcoming, bright and almost infuriatingly positive. "This is just a place for everyone to come together – I invite them here. Don't call it a bar – it's just my place."
Walk into Salve and you may not find anyone to take your order. It's not that there isn't someone working, they're just probably hanging out at one of the tables with their friends. I cooked some dumplings in the kitchen one night because, well, I happened to have some frozen dumplings along. It really does feel like a friend's house, except that Giorgi is also a businessman.
"I decided this year to make a lot of money," he said, surprising me with his candor after an hour of almost impenetrable platitudes about harmony and selflessness. "We get a lot of foreigners here and I can make a good living doing what I do." There are plenty of Georgians here too, but they are certainly a self-selecting crowd.
A few blocks from Rezo's clock tower is another local hangout that reminded me of what older people say Greenwich Village used to be like. It's the cafe/home-stay/gallery of Nikolas Lutidze, 26, whose photograph opens this entry. Nikolas isn't looking for customers – he just wanted a place where he could paint on the walls. He figured his friends would appreciate it too. His mother helps in the kitchen and they've cleared out a tiny room as an overnight spot for whoever might need it: friend, tourist, or out-of-towner.
"I wanted to have a way to make some money and not have to spend all my time working," said Nikolas. "So, here it is, but I really don't want it to get too big, or it won't be what it is. But I guess these things come and go – for now anyway, it's here."
This is just a small selection of the little gatherings that are sprouting up throughout the city. Another example that comes to mind is a painter friend of an American I know in Tbilisi. He's a painter, like his father, and his brothers are also artists of one sort or another. I can't shake the theory that under-employment - along with artistic tradition -plays a role. If you're growing up at a time when there just isn't work, you have to find ways to fill your time, and painting takes up a lot of time.
As Georgia's economy comes back to life, the country is banking on tourism and a Westernized business climate as growth engines. I see plenty of people taking advantage of these changes. I asked the owners of the Tbilisi Hostel what they'd do if they got a shakedown from some official looking for a bribe. "We'd call the corruption hotline and have them arrested," they said, matter of factly. Such a reply would have been bitter sarcasm as recently as a half decade ago.
But what about the Georgians who are too young to remember those days? Will they have as vital a link to the power of Georgia's artistic tradition if it is reduced to the level of the lowest common tourist? Temo Bardzimashvili's stellar photoblog raises this question and I highly recommend the entry.
I also remember my friend Levan's grandmothers' skepticism about young Georgians. She was a chemistry teacher for most of her life, but was laid off when the school downsized her department to make room for more business classes. "I understand business has a role in everything," she said, "A hospital, for example, needs to make money to stay open, but it also needs doctors and technicians and caretakers – and who is studying that in Georgia now? Instead you just see English and business and more business studies. Our country needs more than just businessmen."
With all this in mind, I felt a familiar discomfort when I read the speech delivered by Georgia's long-serving and controversial President, Michael Saakashvili, at the opening of Rezo's tower (translation isn't mine, but be sure that Misha's English is much better than this): "After completion, when we walk from Plekhanov Street, will pass Vorontsov, then walk down the bridge and get to old Tbilisi passing Anchiskhati. Tourists' route is being arranged and we will restore the whole road in such a way that no ugly house will remain there anymore. This tower will crown all this beauty and people from all sides will come here."
I like those ugly houses. I don't blame Georgians for being sick of them, of course, or for wanting a modern, structurally-sound capital. But when I hear "ugly house," some alarm goes off in my head. One day I got lost in the "old city" and stumbled upon a beautiful blue building boarded up and leaning over dramatically. I asked the people in a nearby courtyard what it was - "oh, the Lermantov Hotel," I was told by a man sweeping the street, "They'll tear it down soon enough." Now I know Georgians aren't exactly thrilled about Russia at the moment, but even if the writer hadn't stayed there, the architecture alone is breathtaking - and it probably won't be there at all on my next visit.
But the rubbish Rezo the puppeteer collected for his theater from the remnants of the "old city"would still be rubbish without the achievement of Saakashvili's government. Without its reforms, there wouldn't be safe streets, entrepreneurship, or young people who are free to worry about where to entertain foreigners and friends alike. Still, after nearly ten years in power and ever more isolated planning, it's unclear what kind of country Saakashvili wants to leave in his wake. Just like a bridge, a nation's future is somewhat flexible, but when you bend it enough, it needs to recoil or it breaks.